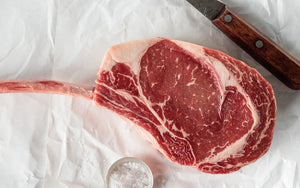 #ANGUS BEEF Tomahawk Ribeye
It goes by many names: tomahawk chop, cowboy steak, or The King of Steaks. This is a seriously large steak for a serious steak aficionado. Weighing in at around 45 - 50 oz with a 14" Frenched bone (that's more than 3 lbs!), it packs a serious punch in flavour that matches its impressive presentation. 
The market price of our Signature Tomahawk Ribeye fluctuates. Contact us for a price update.
How Chops likes it
Reverse sear this monster. Cook it low and slow in the oven for about an hour until the internal temperature of the steak is almost 120F. Throw them on the grill or pan sear until you achieve a nice crust.
Need inspiration? Watch this.