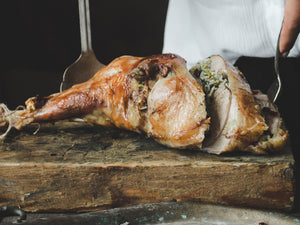 Fresh Naturally Raised Turkey
We source Ontario-raised turkeys who are fed non-GMO feed, are free-range, antibiotic-free, and very fresh — never frozen. The naturally raised turkeys range in size between 15 to 22 lbs and are delivered fresh to you during certain holidays throughout the year.
At this time, we're not taking pre-orders yet for turkeys. Subscribe to our mailing list or contact us if you'd like to place an order for a turkey for your next holiday feast.