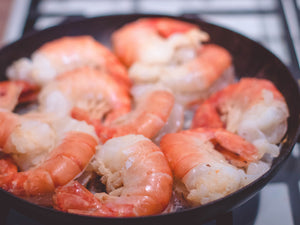 Butterfly Garlic & Herb Shrimp
Need a classic go-to starter or entree for your next dinner party? These butterfly-cut shrimp expand when cooked to reveal that tender, sweet meat with a light coating of garlic, butter, and herbs. They come raw, cleaned, without the head, and are ready to thaw, cook, and serve in your favourite dish or enjoy on its own. Shrimp is 21/25 size and each box is 1.8 kg and contains approximately 40 to 45 shrimp pieces.
* Quantities may vary depending on size of the shrimp.