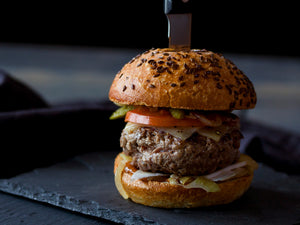 Gourmet Burgers
Ground from lean, grain-fed Angus beef, these burger patties are flavour bombs. These can be perfectly grilled with just an added touch of salt and pepper. Great portion size that's ideal for backyard barbeques or just tonight's dinner. Individually separated for added convenience.  
Cooking tips: don't move the burger once you set it on the grill and only flip it once. Don't mash down on the patty or else it'll release some of its juices. It only takes about 3 to 4 minutes per side.
Our gluten free burgers contain whole grain brown rice as a substitute.
* Buns not included, but we highly recommend a toasted brioche or a gluten free bun.
Need inspiration? Watch this.