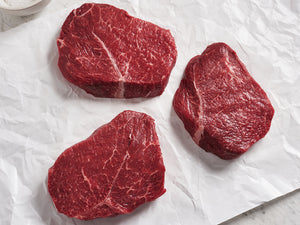 #ANGUSBEEF Flat Iron Steak
One of the most versatile steaks for lunch and dinner (maybe even breakfast - steak and eggs!). Extra juicy and tender when it's grilled or pan seared. Since these premium angus beef steaks come thinly sliced, they are quick to cook and great for simple meals when you're short on time. Try marinating overnight or for a few hours before cooking to get even more flavour.
Need some inspiration? Watch this.