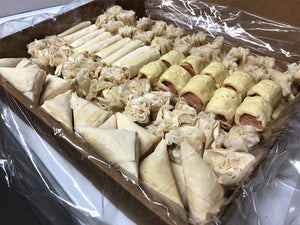 Pop'em Hors d'oeuvres
These locally made gourmet hors d'oeuvres are ready for your upcoming holiday party and get together! There are 100 pieces in a box and are ready to bake from frozen. Each box contains:
Sausage Roll x 20
Gourmet Mushroom Bundle x 20
Crab Meat & Brie x 20
Feta Sundried Tomato Phyllo x 20
Smoked Salmon Phyllo x 20
Fire up the oven and bake at 375F for 15 mins or until golden brown. Pop'em in your mouth (after they cool down a bit).