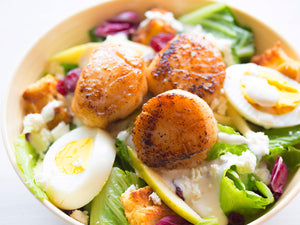 Digby and Bacon-Wrapped Scallops
Do you love bacon? Do you love scallops? So do we! These meaty Digby scallops have a mild sweetness to them and the bacon wrapped around is smoky without being overpowering, creating a nice balance to this gourmet classic. Start these as an appetizer or serve with your main entree. They're also available as plain Digby scallops, sourced from the waters of Nova Scotia, so that you can start with a blank canvas in your favourite sauce.
How Chops likes it.
Super simple: pan seared with a beurre blanc sauce. It only takes a few minutes.
Need some inspiration? Watch this.