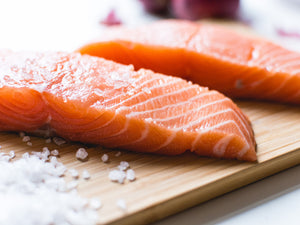 Signature Atlantic Salmon
You'll love these thick, meaty, skin-on salmon fillets raised in the cold waters of Denmark. They have a mild flavour, delicate texture, and are very versatile for cooking. We carry this Atlantic Salmon because it rated GREEN by Seafood Watch, SeaChoice, and Ocean Wise. It is one of the most sustainable salmon products in the world and is GMO-free, antibiotic free, pesticide free, has no synthetic colour additives, and doesn't affect wild salmon or the environment. Very little seasoning to enjoy these centre-cut portions that have an all natural salmon flavour. Its flaky yet tender texture make them perfect for grilling, broiling or pan searing.
Note: These sell quickly and sometimes we may be out of stock! Contact us any time to check if we have this on hand.