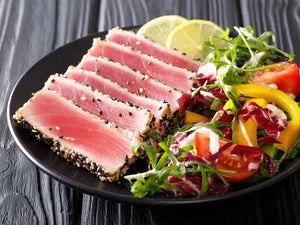 Ahi Tuna Saku Block
These premium sushi-grade Ahi (Yellowfin) tuna saku blocks are one of our favourites because they're so versatile. In Japanese, saku means block, and these are uniformly cut which make it a great choice for slicing pieces for sashimi or to pan sear and put in a salad. Skinless, boneless, and an excellent source of protein. Individually frozen and vacuum packed for maximum freshness.
How Chuck likes it
Combine some black and white sesame seeds in a bowl and stir to mix. Season the tuna with salt and pepper and dredge in the sesame seeds, coating the tuna evenly. In a searing pan over high heat, warm the oil until smoking. Sear the tuna until the white sesame seeds start to turn golden underneath, about one minute. Turn the tuna and sear for another minute. Transfer the tuna to a cutting board and cut into quarter-inch thick slices. Enjoy!
Need some inspiration? Watch this.